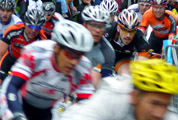 The first Nordic Ways Road Bike event at Taicang city in Suzhou jurisdiction,  2008 Taicang Jincang Lake International Bike Festival, will take place the 25th - 26th of October. It will involve a professional race as well as an open race  for both men and women.There will be relay races in different categories, such as a Company relay, University relay, Club relay, Middle School race, Children's Race, and a costume fun race.
The elite bikers will go on a distance totaling 87 km. Participants in the open race group will go 32 KM. 
During this bike fest, Nordic Ways and Taicang will offer international live music performances, a BMX show and western barbecue at the arena. At the exhibition area you can discover many great new products of the exhibitors from the local bike industry, including many well-known foreign companies.
At the same time, Nordic Ways have confirmed another exciting bike event for this year. It is a two days road bike race that will take place in October 25th -26th around the area of the Olympic Park in Taicang and Jincang Lake (on the roads of Taicang Econcomic Development New Area), which is not that far from Shanghai. You can easily get there in about an hour by car from Shanghai. The contract was signed just before the May holiday which is a 3-party agreement between Taicang City, Chengxiang Town, and Nordic Ways.
Taicang Jincang Lake International Bike Festival will be open for both professional as well as amateur bikers. Relay races in different categories will be organized such as company relay, club relay, university relay and childrens race.There will be many festivities going on during the Bike Festival, including bike exhibitions, western barbecue and an international band performing. In addition, there will be BMX performances taking place in the arena. 
Source: Nodic Ways