With a history of more than 2,500 years, Suzhou, in east China's Jiangsu Province, is best known for its exquisite architecture and elegant gardens. So beautiful are the gardens in fact that they have served as ambassadors to the world on many occasions, their images adorning the background displays of cultural and commercial events hosted by the government and private enterprises.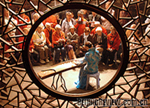 The Ming Hall in Metropolitan Museum in New York City is a clone of a cottage from one of Suzhou's gardens; and the Dr. Sun Yat-sen Classical Chinese Garden in Vancouver is modeled on Ming Dynasty (1368-1644) gardens in Suzhou.
Two styles of garden are prevalent in China: imperial gardens, often seen in Beijing; and the private gardens found in Suzhou.